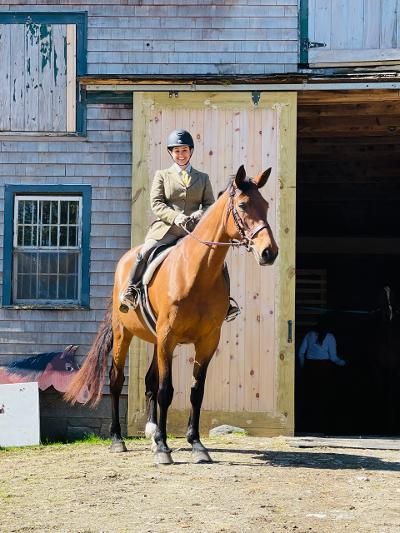 Calligraphy Can Do Z (Callie)
CALLIGRAPY CAN DO Z (Callie)
2007 17+h American Warmblood Society mare
Callie is currently hunting first field and Hilltoppers in a D ring snaffle with Myopia Hunt. Suitable First, Second, or Hilltopping fields.This lovely mare trail rides solo or in a group on the buckle and can go cross country with plenty of scope solo or in a group. Callie is a dream on hunter paces having won two field division hunter paces this a past summer. Callie prefers (yes really!!) an ammy or beginner ride with a soft hand and serves as a very safe and wonderful babysitter.
Not only can Callie fox hunt, but she has dressage buttons and lateral work and has dabbled in the H/J ring. If you are looking for a horse to do it all with, look no further!!
Callie has three wonderful, correct gaits that you can ride comfortably for hours. More so, this mare has a brain that you cannot replicate. This mare actually PREFERS your ammy or timid rider. She is Mother Teresa in a bay mare body and will be a saint for your client requiring a safe and sound riding horse. Callie has had one professional owner since she she hit the ground which means she has impeccable manners and health. Zero maintenance, no supplements, lives with two geldings on a ration balancer, no prep, no health issues. She is NOT mare-ish. Callie's calling in life is to take care of her rider at all cost and has proven quietness in the field and in the ring. This mare is so good she will even depart the field without issue if her rider needs. No fuss and no antics—she is just lovely to work with and easily maintained by an amateur. This lovely mare will hunt first field AND Hilltoppers with an amateur with Myopia Hunt until she finds her person. Callie can do it all and won't last long!
Papers and many more videos available upon request.

Asking $40,000 neg to absolute perfect home. Perfect home a must.
Erin Whitemore   317-902-4831. or  enwhitmore1@gmail.com
Located in MA