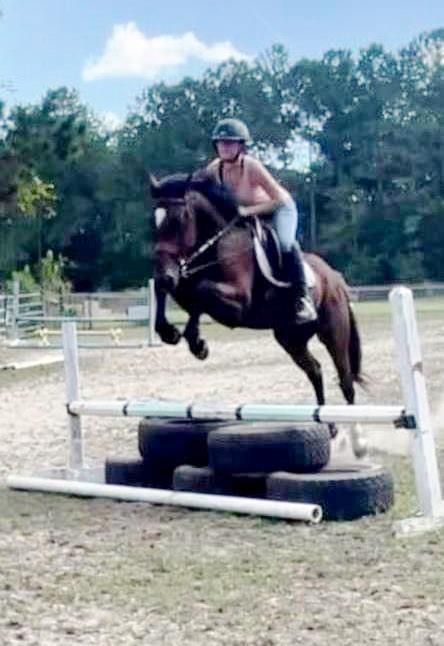 CROOKED TREE'S VALENTINO (Sirius/Sy)
2014 15.2h, 3/4 TB, 1/4 Percheron gelding
Hunted all season with Live Oak Hounds: 1st flight, 2nd flight, and Hilltoppers.  Used as a guest horse many times!  Jumps anything you point him towards from tree trunks to skinny roll tops to creeks! Jumps a 10 every time!  Hunts in a snaffle.
Easy keeper, great feet (barefoot), and a puppy dog personality.  Same horse on and off property. Easy to ride in the bridle.  Has more go than whoa, but easily rides in a snaffle.  Trail rides alone or in a group.  Can pony or be ponied.
Has shown in hunters with ribbons in the higher places.  Jumps a 3' course with singles up to 3'6.  Working on changes, but the foundation is there.
Suitable for Intermediate riders and up
$25,000
Contact Jilly Hutto, 850-545-0561
Located in Tallahassee, Florida