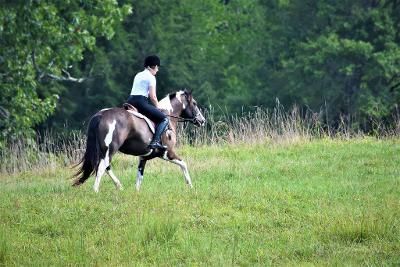 FELLA
2015 14.1 1/2h Gypsy Vanner cross gelding
Fella is a "10" mover, and will be successful in the show ring, as well as a great kid's or lady's fox hunter. Fella has been trail ridden extensively, is very laid back, and is happy to go your pace. Fella is currently hunting third and second fields with Rappahannock and Warrenton, and has been super for all we have come across.
He hasn't batted an eye at the hounds, is comfortable walk/trot/canter in a group on trails or in an open field, will lead or follow and has just started lightly over small fences in the field. Fella is a bit green and definitely more of a kick ride in the ring, but will move along in a group out in the field and is happy to follow along. He has a natural, easy lead change and will change if asked, not automatic yet. Never any buck, rear, bolt, playfulness, funny business or other bad behavior. We even had a run in with bees where other horses were leaping around, and he just stood and watched without a care.
Fella will begin cubbing in the next couple of weeks and I have no doubt he will take to it like he's been doing it forever. He gets along with all horses in a mixed herd and is middle-lower end of the pecking order. Very easy keeper, keeps his muzzle on when on grass, loads and trailers easily, ties, bathes, clips, and is up to date on all vaccines, teeth floating, coggins and deworming. He is great for the farrier and vet and will need front shoes for hunting, but is fine barefoot for ringwork and schooling in a field. Fella doesn't mind being ridden by many different people and does not need any prep, just groom, throw on the trailer, and go.
$26,500
HE will continue his training and will hunt bi-weekly through mid October, and if not sold by then, will go home to be his owner's hunter. Don't miss out on this one, he's such a fun, straight-forward, gorgeous guy that always gets all of the compliments!
Videos of trail rides, hunting, ring, and jumping available, as well as many more photos.
MAGGIE LANHAM maggs134qh@aol.com
Located in Rixeyville, VA