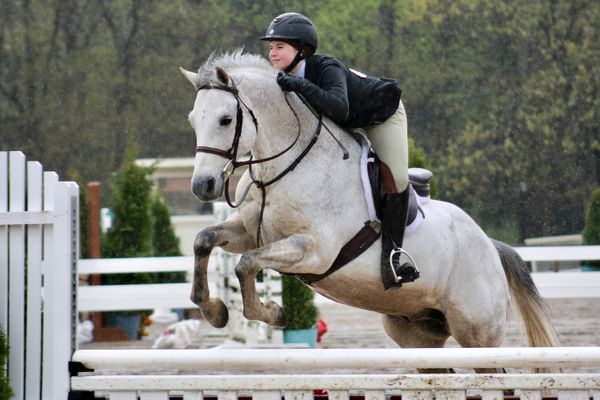 GRYFFINDOR
2007 Registered Welsh section D
Grandsired by Cloe's Olympian
Height card 14.1 3/4

(Formerly "Wee Farms Ready Made") is currently in his third season with the Waterloo Hunt Club of Michigan, being used as a guest horse. 
This pony will hunt all three fields with a child or smaller adult, but prefers to hunt first where he can show off his sure footedness, speed, and scope.  Last season, Gryffin was leased to an adult amateur at the Metamora Hunt club when their hunt secretary was in between horses.  
Previous to Gryffin's stay at Metamora, he was leased by a timid ten year old who needed a show hunter packer to regain her confidence. She showed him short stirrup in the B circuit where they qualified for the year end championships. 
Gryffin has an auto lead change, is brave to the jumps, and is tolerant of mistakes. He is fearless on the cross country course, and easily rounds and accepts contact in the dressage ring.  Previously ridden by my daughter, he was schooling 3'3" jumpers. 
Gryffindor's ideal home would be with either an adult amateur who is looking for a fun and safe ride for foxhunting, and to dabble in local shows in the off season; or a child looking for a safe horse to do the same.  He is truly a solid citizen and I can not say enough good things about him. He comes with the glowing recommendation of two hunts. If I didn't already have six other hunt horses, and enjoy bringing along new ones, he would NOT be for sale. I will be careful about where this guy goes. No vices, is barefoot .
$25,000
 Alissa Smith