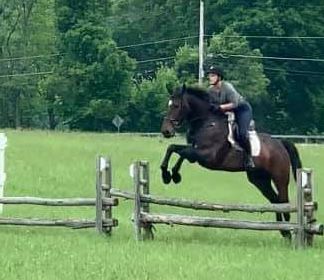 MONTY

 

2016 16.2 Imported Irish Sport Horse Gelding

Currently leading and hunting 1st Flight at Millbrook.

 

Previously Monty was hunted and taken to SJ shows in Ireland.  He hunted with the Wexford Hunt and County Roscommon Hunt in 2020.  Throughout his training in the States, he has been in a foxhunting/eventing training program.  Monty is an absolute blast to ride, uphill, balanced, steady, dependable, a good thinker, trustworthy and good with traffic.  He is sweet, kind and has a heart of gold with an incredible work ethic.  He is a horse that always wants to do right and give 200%.  He would make a great first flight or master's horse as he is respectful enough in a group to keep his distance and willing and confident to go off on his own.  He happily hacks out alone or rides in the back, all in a soft snaffle.  On the flat, he is soft and light on the contact, moves off your seat and leg, and wants to stay in your hand. The canter on this horse is fantastic, as he stays rhythmical in an easy, comfortable gate.  He is happy to work, and then stands quietly until its time to go back to work.  And with a fantastic canter comes a fantastic jump. 

He is currently jumping 3' courses in his sleep.  He would suite a novice to intermediate rider.  Has shown potential to move up, or just stay where he's been.  The options are endless with his brains.  Monty is willing and brave to show jumps or cross country.  He's gone hunter pacing and hound exercising and excelled at both, with comfortable gaits, a soft mouth, a sensible thinker and an amazing work ethic, he would be a wonderful addition for anyone looking for a safe and dependable mount.  There is nothing this horse could not be trained to do.