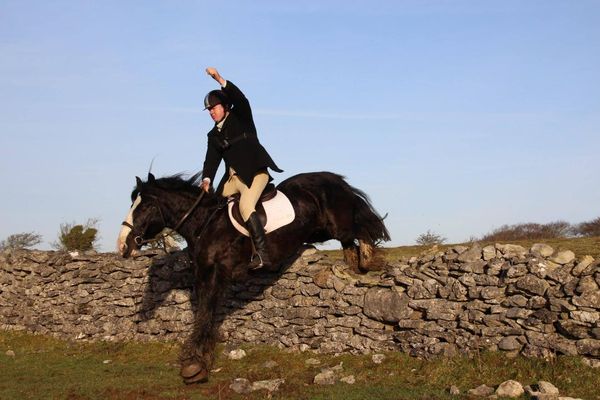 MR EASTWOOD

2012 16.2H Irish gelding

He has hunted first flight (there really is only one flight in Ireland) with: Grallagh Harriers, County Galway Hunt(Galway Blazers), East Clare Farmers, North Galway Hunt, Kiltormer Drag Hunt with jumps up to 4 feet.  He will suit any type rider.

Big, strong cob, friendly and curious. Easy to work with, leg in each corner, knows his job and gets it done.
Not a fussy horse, will come when called, easy to catch and mount up. Will do whatever is asked of him. Good, solid ride, comfortable, forward but responsive, nice paces.
Experienced hunt horse, cross country jumper, hunter trials, trail rides, beach rides for all kinds of riders from first-timers, children, adults to experienced riders. He loves beach & trail rides, hacking out, very experienced on busy city roads.
He has competed at local hunter trials with novice riders & jumpers successfully winning and placing.

He has been used a hunt hireling and hunted by people from America, UK and Russia.
E15,000 offers taken

Contact Information: James Tonery 617-777-3989 (U.S. phone, call or text)

jamestonery.equestrian@gmail.com

Location of horse: Galway, Ireland. Shipping arranged