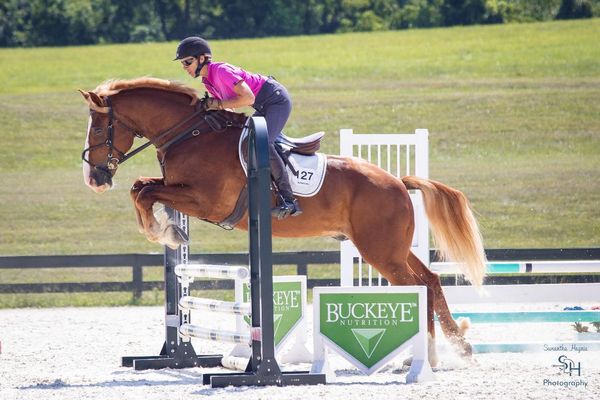 RIVER
2010, 16 h, draft X gelding
River has been hunting with Old Dominion since he was five. Last season he hunted first field with Blue Ridge Hunt and ODH with his owner, as well as a master of ODH, who used him to whip or lead second field. He truly does not care what field he's in or what job he is doing — he has done it all.
Currently he has been leading ODH trail rides and roading hounds. He has done Hunter paces, jumper shows / combined tests, is fabulous XC, and lovely on the flat. In the hunt field, he's forward moving, scopey, and athletic over difficult and uneven terrain. He has never stopped at a jump in the hunt field, no buck, is great with the hounds and opening and closing gates. He does best with a rider who is comfortable on a forward horse who enjoys keeping up with the hunt, but is very adjustable and rate-able to rider aids. 
He very comfortable hacking out alone or in company through fields, mountains, along the river road (he is used to car and boat traffic), and passing animals and pedestrians.
He is looking for someone to enjoy him in the hunt field, as an eventing prospect, Pony Club horse, or all rounder. He has an exceptionally sweet and personable disposition — he is the type of horse who is very bonded to his owner.
No vices or lameness, stands great for baths / clips, vet, farrier, and great to trailer. Up to date on all vaccines. Currently roading hounds with a master and competing at local shows, he is fit and ready to find his new partner to kick off the 2021-2022 hunt season! Good home only. 
Priced at $40,000. Serious inquires only. 
Price will increase as horse continues to hunt 2021-2022 season with a master. 
Megan Eberly.   540-359-5293
Located in Virginia