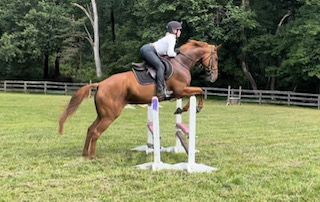 ROSIE McGUIRE (JC name)
2014 16.2h  OTTB mare. 
Hunted 3 seasons 2nd field with Carrollton Hounds. Also hunted Goshen and Elkridge-Harford
Rosie was re-started after lightly racing by an AA. She is currently in training to move up to First Field and BN eventing. She is kind and well mannered but has too much scope for a beginner rider. She hunts in a snaffle and is easy to rate. Rosie also hacks out alone and is brave leading a group so could excel as a staff horse too! She also has experience hunter pacing, eventing, dressage and jumpers at the local level.
Videos available upon request!
$15,000
Katherine Rizzo, korizzo@smcm.edu, 301-904-4048
Located in MD