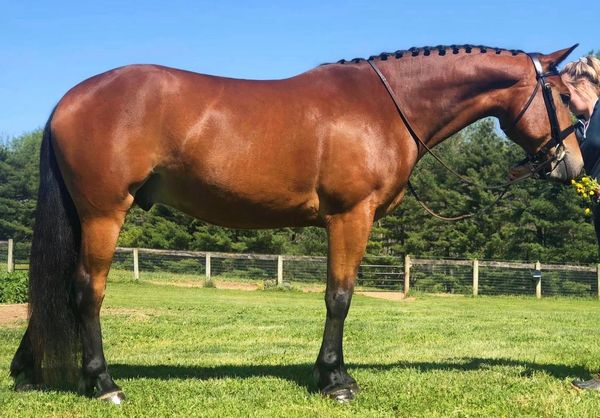 SUTTON

2018 16.1/2H draft cross(Percheron/TB/QH) gelding.

Fancy and growing. Sutton currently WTC, has been started over fences, and hacks out cross country. Straight and correct with lovely movement. He loves to lead the group trail rides and is happy to walk, trot, and canter out on the trail and find some logs to jump while exploring the great outdoors. He has trailered off farm for some group trail rides and hacks through hunt country. Sutton also is excellent in the ring and is responsive to aids to quietly, correctly, and happily work in the arena. He is a lovely mover and demonstrates proper form over fences. Sutton also drives beautifully and is easy to harness and hitch. 

Sutton is an excellent prospect for fox hunting, showing, and more as an amateur friendly, all around horse that someone can enjoy for lessons, trail riding, driving, and anything else they would like to do along the way during the process of furthering the education on a young, green horse with lots of potential. 

On the ground, Sutton is friendly and easy. He is great to tack up, bathe, shoe, crosstie and load. Good ground manners. No vices. Sound with no health or soundness issues.

$20,000 (price subject to increase)

Serious inquiries may CALL 610-745-5442.

Located in Coatesville, PA.